I freelance under the name Domo Box with my dude. We were hired to come up with different concepts for their Halloween bash. I just wanted to posted the collaboration. I did the print, and flyer work and my dude did the illustration work for both concepts.
First concept is art nouveau style to mimic an old wine label.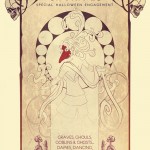 The second concept we provided was to have a more playful style. The club is adjacent to Howard Hughes' graveyard so we played the graveyard theme up a bit.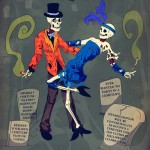 Which concept do you like more? Option A or Option B?
This post was written by:

MIJA VERA - (view all posts by Mija)
Mija has been a designer for the last 15 years. She is a paper obsessed fiend and loves working on new projects while listening to her kids and Maine Coon cat chatter around the house. You can email her at mija@mind-speaks.com