Its been a whole year of Mind-speaks.com and we do have some ideas for the new year. We plan on starting to do some craft festivals and events so if all goes well people might be able to buy prints and knitted items from us.
OK – lets start with the official post. Graduation is around the corner and mom wanted me make Kat's commencement announcement invites. She ordered and paid for mine/Kim's when we finished High School and the total cost us a few hundred bucks. Mom asked me to do these on a budget. No problem!!
I picked out a linen bright white paper (80lb)
Frosted Vellum Paper
Bright white A7 Envelopes
Midnight Blue 80 lb text paper for envelope lining
I took the bright white paper – printed a vector image of Kat's mascot (pirate) and printed a vivid cover with her name and graduating year (2011). Scored and folded them. Printed the invite info (time, date etc…) inside on vellum (vector type as well). I took my favorite new tool – tape runner (invisible!) and taped the vellum with text on top of the pirate, since the tape is invisible it doesn't show under the vellum which rocks!!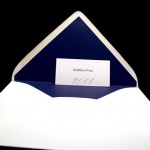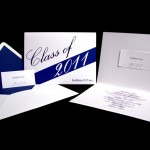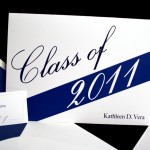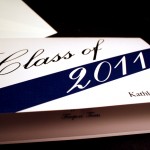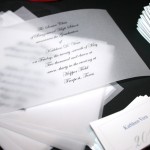 NEXT – I started to use my handy template for envelope liners – traced A7 liners on the midnight paper. Took my tape runner and taped them inside of my bright white envelopes. Ta-da! I also made her name cards to go with her senior pics I took. All in all – paper costs and supplies were 62 bucks! Whoooosh!

This post was written by:

MIJA VERA - (view all posts by Mija)
Mija has been a designer for the last 15 years. She is a paper obsessed fiend and loves working on new projects while listening to her kids and Maine Coon cat chatter around the house. You can email her at mija@mind-speaks.com