Are you having a new years party but don't know what to make?  or don't have the time to make something extravagant? Well you came to the right place nothings quick and easy and delicious as Puppy chow (no its no meant  for your dog)
Ingredients you will need:
Peanut butter (creamy)
chocolate chips (or any kind of chocolate as long as you can melt it.)
powder sugar
and Chex cereal (plain)
First you melt the chocolate chips you can use a double boiler or melt them in the microwave but be careful you will have to constantly watch it cause it may burn . Also the amount of chocolate depends on how much cereal you want to use if your having alot of people over then I recommend two bags of chocolate chips and 2 boxes of cereal this will make alot. but if your just having a get together then one bag of chocolate chips and one box of cereal will make a decent amount.
Next mix some peanut butter ( If you love peanut butter then you will most likely want to put alot but if your like me and dont care for peanut butter you can just omit it or just add a little ) Note: do not melt the peanut butter it will melt when you mix it in the chocolate.
After you have properly mix the chocolate and peanut butter together put a small portion in a bowl and start coating them with powder suger your gonna repeatedly do this until all of the cereal is coated evenly. Note: be careful when your stirring  the cereal  may break and get gross and icky.
*Party Idea*: a cute idea is to put them in cute boxes or bags and hand them out as party favors. :3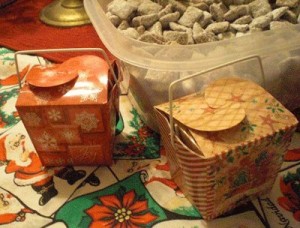 This post was written by:

KAT VERA - (view all posts by Kat)
Kat is a lead pastry chef. When she isn't in the kitchen she's traveling space and time with Doctor Who and solving mysteries with Sherlock. Email her at kat@mind-speaks.com