3 Different poster designs for Green Card
110 lb. cover – semi gloss paper (to add a shine but not a glare)
cutting board
Printed our smaller flyers on 90 lb. cover – high gloss
Sorry for a late post!!! Okay I have been working with this local DJ here in Houston for about 2 years now… he just started a super group of collective sounds, including a drummer, saxophone player and guitarist. Part light show, part interactive band – really interesting and cool. They are called Green Card because well they are all non-American. Mishka is from Russia (DJ), Eli is from Israel (guitarist) etc etc…
Note: I also designed Green Card, DJ MikeC, Mishka, 3rDimenson and Illuminati's logos!
Anyway here is a small collection of work I have done for them since their debut. I don't have pics of the decals I made for Mishka's laptops…coming soon!
First reveal was to mimic a fake green card and have the image of the front men hidden since they go by different DJ names.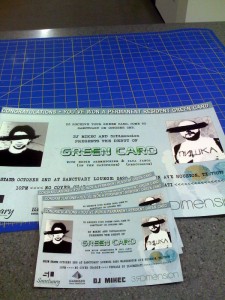 Second flyer was for a Thanksgiving show, they became such a huge hit after their debut we had some nice action shot of the guys. This time we put the whole band.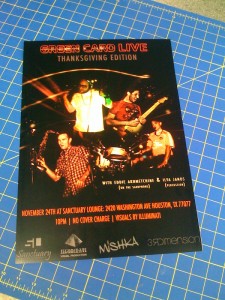 The newest flyer is for a New Year's Day show. I figured lets work with their pics, do something shiny and classic looking. Bright lights with tints of purple and green for the theme of Green Card. Back to basics only using the front men.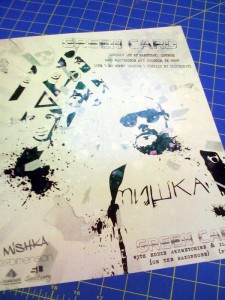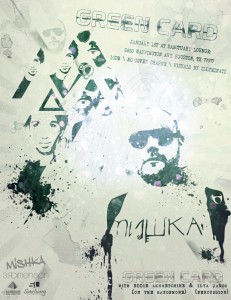 We are thinking of using a similar style for their cd cover. Also side note – I have been using invoice bubble for my invoicing…LOVE IT! AND you can now add the official Mind-Speaks twitter over here.

This post was written by:

MIJA VERA - (view all posts by Mija)
Mija has been a designer for the last 15 years. She is a paper obsessed fiend and loves working on new projects while listening to her kids and Maine Coon cat chatter around the house. You can email her at mija@mind-speaks.com