You don't  have to head to a gourmet bakeries to indulge in this sweet pastry. This recipe is very easy and you can fill it with whatever your taste buds are craving!!  Mine were craving apples :9
For this simple recipe the ingredients you will need are:
1 (1/4 oz) package active dry yeast                                                  
1/2 cup warm milk
2 tablespoon sugar
1 teaspoon salt
1 egg, lightly beaten
1-1/2 cups plus 2 tablespoons all purpose flour

Butter mixture:
2 tablespoon all purpose flour
3/4 cup cold butter , cut into tablespoon sizes pieces

1. In a large bowl mixing bowl , dissolve yeast in warm milk. (make sure its not hot!! It will kill the yeast if its to hot) Stir in the sugar, salt, and egg; mix well. Add the flour all at once, stirring until mixed. set aside.
2. For butter mixture, (for this part I place the butter in between two parchment paper so it wouldn't stick to the counter plus its better to do this while the butter is cold) chop the the butter in to pieces get a rolling pin and beat the butter until you get a small odd looking rectangle.
3. Next  roll the dough out into a rectangle, place the butter 1 inch above bottom edge and fold the sides over and pinch edges to seal.  Turn the dough and lightly roll into a rectangle. Fold third of the rectangle  and lightly roll in to a rectangle; repeat this three more times.  Then refrigerate for 30 mins.
4. Meanwhile start the filling; chop two apples into small pieces and sprinkle with sugar and cinnamon (taste to see if its sweet enough.) then strain it.
5. Roll out the dough into a 12inch square; cut the square into three strips. Spread the filling down the middle of each strip and fold in the sides length wise and pinch closes. Cut each strip into three pieces. Cut  four 1 inch down each strip to make the bear claw shape.
6.  Place on a greased baking sheet about an inch or two apart. Curve folded side slightly  to separate  stripes and allow  the filling to show. Cover and let rise in a warm place for an hour.
7. Brush with egg. Bake at 400 degrees for 10-14 minutes or until puffy and golden. Remove to pan to wire rack. To make glazes combine 3/4 cup powder sugar with 2 to 3 teaspoons of water; brush over warm rolls. cool. (I sadly didn't have powder sugar so I had to go without it, there were still delicious though )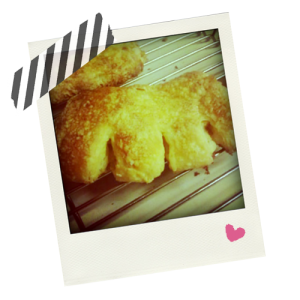 This post was written by:

KAT VERA - (view all posts by Kat)
Kat is a lead pastry chef. When she isn't in the kitchen she's traveling space and time with Doctor Who and solving mysteries with Sherlock. Email her at kat@mind-speaks.com