More hair ties!!!! They are the easiest things to make. And frankly, its the only thing I can make with the supplies I have. :/ Bows are super easy to make, if you aren't a flower person these are a great alternative.
Materials
two different fabrics (I recommend one pattern and one solid)
scissors
thread
hot glue gun
starch (optional)
hair tie/clip
Sewing machine (optional)
One of my favorite bloggers posted a great version of  hair bows.
You will need two rectangles of fabric to construct the bow and then one thinner piece for the middle part. The two hair tie bows  measure 6 X 3.5 the hair clip one measures 8 X 3.5. But just play with different sizes, I would recommend starching the fabric the larger you make the bow.  (and be careful using the hot glue gun)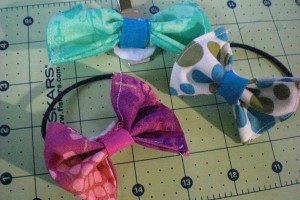 Next time I plan to update with something more creative. >.<
This post was written by:

KIM VERA - (view all posts by Kim)
Kim works as a museum Copywriter and helps out with events from time to time. When she isn't working or blogging, she is probably off taking a nap. Feel free to email her at kim@mind-speaks.com