A year ago when my guy proposed I had an idea that maybe….perhaps maybe – I could design my own save the dates and invitations to the wedding. After my hiatus from an office job I decided to start working at a lovely store called Paper Source in my city. Soon after I started to teach brides to be how to make inexpensive, creative invites using our paper and products. Oh boy its one thing to tell ladies that they can make their own invites but when I started to make mine I was lost!
I don't really design much for myself, you see when you freelance you rarely get to the time to design for yourself!! I first had to come up with a color theme. I always tell brides to consider the season of their wedding and the location. We picked October and the reception is in a green house, garden wedding sparked the idea of using creams, blues and organic paper bag.
Since my wedding invitations will be more formal I decided that I should have fun with the Save the Dates. I printed the cover on paper bag, and in the inside I printed on soft white cover. The outside is perforated so the guest could tear it open. And I sewed it shut. Well – Kim did the sewing portion.
Photos 1-5 are of the save the date. Last photo is of my process of my wedding invitation.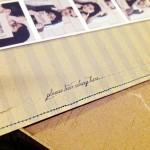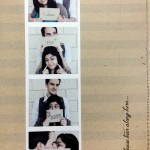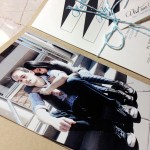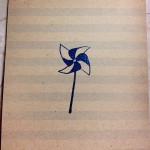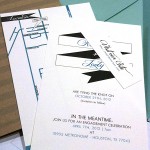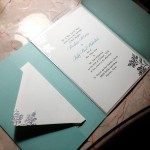 Advice: If you do make your own invites, its helpful to have a supportive bridal party. I had lots of help constructing these, I love my bridesmaids and my man. <3
This post was written by:

MIJA VERA - (view all posts by Mija)
Mija has been a designer for the last 15 years. She is a paper obsessed fiend and loves working on new projects while listening to her kids and Maine Coon cat chatter around the house. You can email her at mija@mind-speaks.com