Crochet – Hearts and Flowers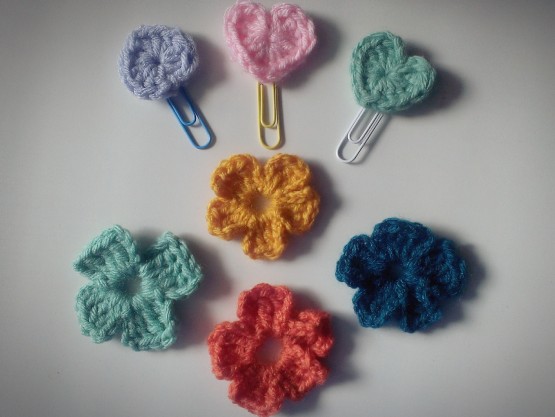 Yarn crafts are amazing and a lot of fun to make.  The craft I'm sharing today is great for decorating just about anything. Whether it be gifts, planners, room decor, or hair clips. These small little hearts and flowers are great for all your decorating needs.
Crocheting is something I've just recently started getting into. If you're like me then knitting came much easier to learn. But crocheting allows you to do more shapes and so I've been trying my best to learn how to crochet. And I believe I've been able to pick it up now, due to the fact that my knitting skills have greatly improved since I first started knitting. I'm not a knitting master by any means, and crocheting is still a mystery to me but I've managed to crochet these little hearts and flowers, so these are great for novice yarn crafters or even novice crafters in general. A while back I showed the knitted hearts that I learn to make, but the crochet ones are flat and you can adjust the size depending on the size of hook you use.  These can also be used to make garlands that you can hang on the wall.  The paperclips are fairly new, I've noticed the planner community post something similar on instagram and had to try it out myself. I've kept one in my planner for the whole week and it hasn't moved or gotten in the way. It's just something small to decorate your planner pages and also be used as a paperclip. Bonus points!
Check back here for some more crochet projects, maybe next time I'll even make some DIY tutorials and show you how I knit or crochet. Until next time…..
Thanks for reading and commenting.
This post was written by:

KIM VERA - (view all posts by Kim)
Kim works as a museum Copywriter and helps out with events from time to time. When she isn't working or blogging, she is probably off taking a nap. Feel free to email her at kim@mind-speaks.com