Hi Guys! If you've been on our blog before or visiting us for the first time after our live webinar with HISD ROSES – welcome! I am posting today to share a recipe on how to make some Mexican gingerbread sweets called marranitos!
These are a staple in Mexican cuisine, and we grew up eating these all the time. Here is the recipe I use for these amazing sweets!
Tools

Cookie Cutter (Doesn't have to be a pig one!)

A baking cookie sheet with parchment paper

A mixer or spatula

A large mixing bowl

A rolling pin
Instructions
1. Set your oven at 350°F. Take your bowl, add sugar and room temperature butter together. Mix using either a mixer or a spatula, until it looks white and creamy.

2. Next, scrap the sides of the bowl and add your egg, milk, molasses and vanilla.

3. Then, add your all purpose flour, ginger, cinnamon, baking soda till the dough starts to form. You may need to add milk if the dough feels dry.

4. Take half of the dough and roll with your rolling pin until it is 1/2 inch thick. Use your favorite cookie cutter and cut out your shapes! Place on the cookie sheet.

5. Cover each cut out with an egg wash. Break an egg and take a spoon or pastry brush and lightly coat the cut out. This is how the you achieve that golden shine!

6. Bake for 12-15 minutes. Depending on your cookie cutter size you may need more time. Make sure the middle of the treat is firm.
You can download the recipe PDF here.



marranitos-recipe.pdf (430 downloads)


Also, my portfolio site is located here.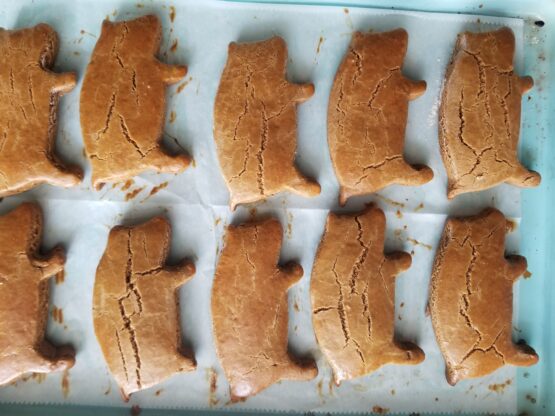 This post was written by:

KAT VERA - (view all posts by Kat)
Kat is a lead pastry chef. When she isn't in the kitchen she's traveling space and time with Doctor Who and solving mysteries with Sherlock. Email her at kat@mind-speaks.com