Japanese Cheese Cake Recipe
I tend to spend way too much time on Instagram before bed,I look at tons of different cakes and treats which tend to trigger night time cravings…not good. There is a particular treat that has been catching my eye – I've been wondering how this treat would taste like. The Japanese cheesecake! If you haven't seen these adorable and bouncy cakes, it looks like this: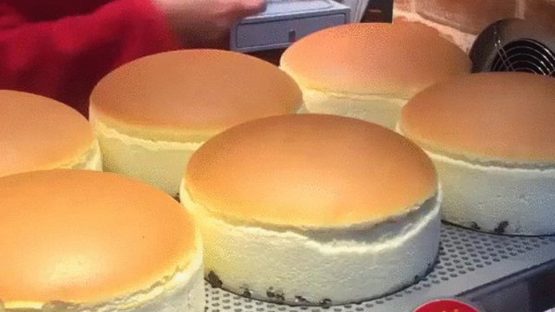 *Photo credit from Nerdist.com*
These cakes are so popular that even
Nerdist
updated about it. I've only imagined how delicious these cakes would be and finally I had time to make it. I ended up making it for
Kim's
birthday. Which is why I don't have a naked picture of the cake cause I was in too much of a hurry  to get it party-ready.  So I got this recipe from
rasamalaysia.
Ingredients:

5oz sugar
6 egg whites
6 egg yolks
1/4 t cream of tartar
9oz cream cheese
2oz butter
3oz milk
1T lemon juice
2oz cake flour
1oz corn starch
1/4 t salt
Ingredients
1. Melt cream cheese, butter and milk over a
double boiler
. Cool the mixture. Fold in the flour, the cornflour, salt, egg yolks, lemon juice and mix well.
2. Make the meringue by whisking egg whites with cream of tartar until foamy. You can beat with a stand mixer or handheld mixer. Add in the sugar and whisk until soft peaks.
3. Take 1/3 meringue and fold into the cheese mixture, then fold in another 1/3 of meringue. After incorporated, pour the batter back to the remaining 1/3 meringue and fold. FOLD GENTLY. Pour the mixture into a 8-inch round cake pan (lightly grease and line the bottom and sides of the pan with grease-proof baking paper or parchment paper)
4. Bake cheesecake in a water bath for 1 hours 10 minutes or until set and golden brown at 160 degrees C (325 degrees F).
After the caked cooled I cut it twice so I could put three layers of whipped cream icing and diced strawberries.
And it's done! I really liked this cake, it reminds me of Sara Lee pound cake once you refrigerated it. Next time I want to add more cream cheese for a more custard texture but overall definitely going to be part of my cookbook.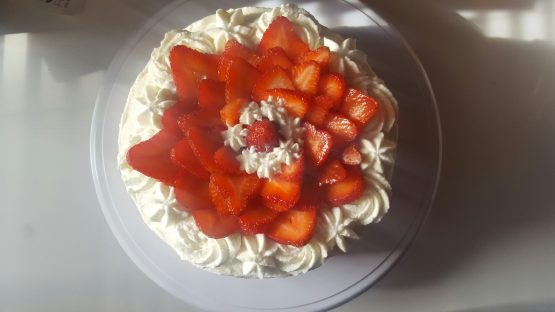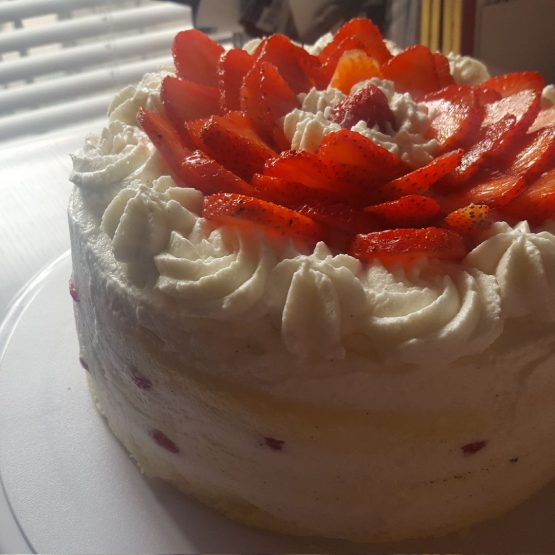 This post was written by:

KAT VERA - (view all posts by Kat)
Kat is a lead pastry chef. When she isn't in the kitchen she's traveling space and time with Doctor Who and solving mysteries with Sherlock. Email her at kat@mind-speaks.com