Well I have been using pancake mix all my life (aka aunt jemima pancake mix :P) and I have always wanted to try making homemade pancakes which really arent that hard I'm just lazy lol
The ingredients you will need are:
1 1/2 cups of all-purpose flour
1 teaspoon salt , 1 tablespoon of sugar
3 1/2 teaspoons baking powder
1 1/4 cups of milk
1 egg , 3 teaspoons of butter (melted)
First in a large bowl sift together flour, baking powder, salt, sugar. Make a well in the center and pour in the milk, egg and melted butter, mix until smooth.
Heat a lightly oiled griddle or frying pan over medium high heat. Pour or scoop the batter on to the griddle. Then wait until its cooked.
This recipe should make at least 7 or 8 hotcakes 😀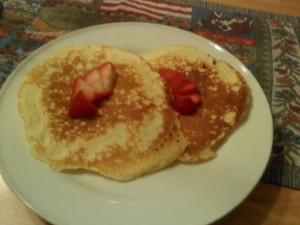 This post was written by:

KAT VERA - (view all posts by Kat)
Kat is a lead pastry chef. When she isn't in the kitchen she's traveling space and time with Doctor Who and solving mysteries with Sherlock. Email her at kat@mind-speaks.com