Hey guys, we finished our first workshop at POP SHOP: DIY Wedding this past weekend. I just wanted to share some supplies that I recommend using when making invites!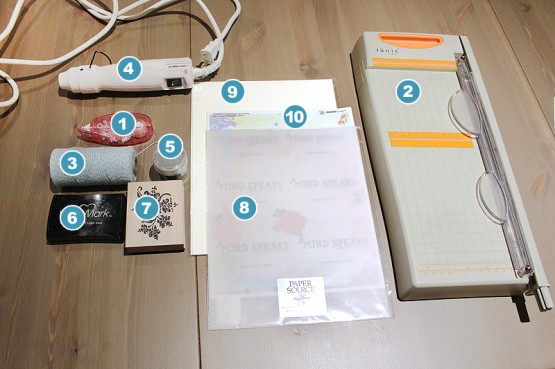 1. Tape Runner. I love love using a tape runner – you can't feel the adhesive when layering which is awesome. Don't deal with messy spray glues, the tape runner is perfect and has easy replacement cartridges.
2. Paper Cutter. Why give yourself headaches with scissors or other hand tools. I love my cutters! Random fact: I have 2, one large full size and a travel size cutter.
3. Bakers Twine. Nowadays you can pick this up anywhere in variety of colors. Etsy and Paper Source carry them in different colors!
4. Heat Tool. I have a Martha Stewart heat tool for embossing. You can get these at Hobby Lobby, Michaels and Paper Source. Hint hint if you want a pretty teal one go to Paper Source!
5. Embossing Powder. You can get a variety of colors and brands of powders. Depending if you want a metallic, glitter or plain solid colors – you can find them all at Paper Source. Make sure it is labeled EMBOSSING POWDER. Usually comes in a small container and sorted near normal glitter so read the label carefully. You can save on powder and reuse the excess with the help of a tray to catch any extra powder.
6. Ink Pads. OK This is the most important item on this list. In order to emboss correctly you want SLOW drying ink! I almost only ever use Tsukineko's VersaMark. You can get this amazing ink pad at JoAnn's, Michaels etc… The slow drying ink pads are usually with a black case. We want slow to give you enough time to apply the powder and add heat to the design.
7. Stamps! Rubber stamps are addicting to collect and fun to play with.
8. Vellum Paper. For creative layering and helps add elegance to your piece.
9. Card Stock. I love combining soft white or off white text paper with kraft cover paper. You can play around with colors and weights.
10. Full Sheet Labels. You can buy full label sheets and print out your address labels. I cut mine into strips which you can see here.
Remember, if you have any questions about
Wedding
info drop us a line under the contact section! I will try to ask any questions that you might have. That is about it!
Stay tuned, we have some cool news coming with an awesome giveaway – join our mailing list for up to date news!
This post was written by:

MIJA VERA - (view all posts by Mija)
Mija has been a designer for the last 15 years. She is a paper obsessed fiend and loves working on new projects while listening to her kids and Maine Coon cat chatter around the house. You can email her at mija@mind-speaks.com