I've only dabbled in sewing clothing here and there, last October I actually tried my hand at making my costume. I was happy with the results but my pattern/sewing skills could definitely use some work.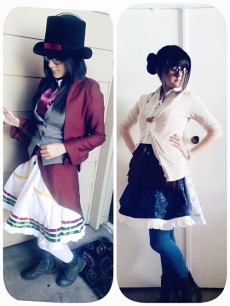 If you've read our recent posts you will have noticed that Mind-Speaks had the honor of being apart of a craft fair known as Pop Shop. I took this upon myself to create a half apron for the occasion and also a circle skirt for Sunday, it was Star Wars Day so I of course had to make something to celebrate. However, I did it the night before and didn't have enough fabric so I know I could have done better if I had more time. Circle skirts sit high on the waist, but with my Halloween costume I made it sit right on my hips. I believe this skirt took 2 yards to make, the other one was probably less than a yard. If you fold it just right you will be able to get the full skirt without any seams. I on the other keep making the same mistake and always get two halves.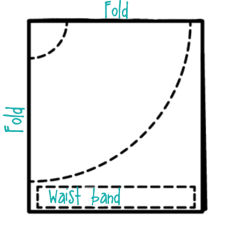 Hopefully the next time I attempt this pattern I will get it right. Not that the seams get in the way, it just means you would have an extra step of sewing the two halves together. For the Star Wars skirt, seeing as I didn't have enough fabric, I had to use a different one for the front half.
TIP: Buy trim in bulk, it's annoying to have to make your own, but sometimes you have to. Kudos to you if you already do. :3
I'm terrible at making patterns, so this part is always the worse for me. Along with cutting the pattern out so make sure your rotary tool is sharpened. This video helped me a lot when making my pattern. Circle skirts are really fun to wear, so I know you will have fun making/wearing one. That's all I have for this entry. Until next time…
Thanks for reading and commenting.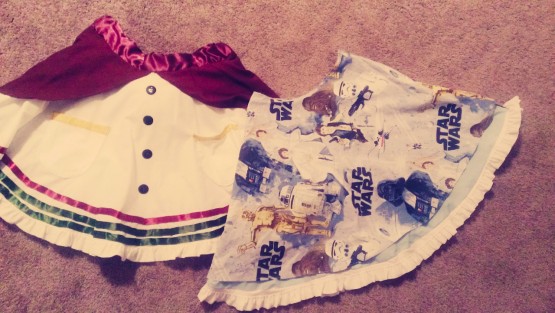 This post was written by:

KIM VERA - (view all posts by Kim)
Kim works as a museum Copywriter and helps out with events from time to time. When she isn't working or blogging, she is probably off taking a nap. Feel free to email her at kim@mind-speaks.com