This Halloween my roomies and I decided to host a Halloween party. And I was in charge of costumes this year.
Now I didn't make full costumes. Mostly just accessories, we were on a budget this year. So I bought fabric for each of our costumes. This year my sisters and I dressed as the non- princesses in the fairy tale world.
Mija went as Alice. Now for her costume I learned how to make these adorable Anime style bows from here. I used this tutorial to make her head bow and also the bow in the back. Unfortunately I don't have any pictures of the back of the apron but it turned out so to be awesome. I also made her Alice apron, and I stitched a little red heart in the right side corner. Her skirt was actually a strapless dress that I bought from Taxi Taxi and I converted it into a skirt with an elastic band. I felt like the skirt really pulled the costume together and I'm glad I was able to make it work. And look how adorable she looks in it.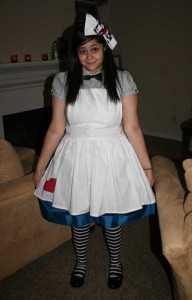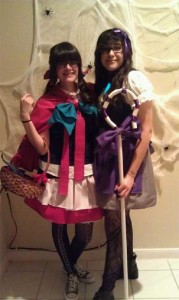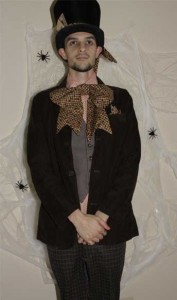 I was Little Red Riding Hood. I made myself a cloak but only I didn't even take any pictures with the hood up. >.< And I made myself a little skirt with a white apron attached to it. I also made the big teal bow, and the mini hair bows. I had a lot of fun making the costumes. Kat was Little Bo Peep. I only made her a purple apron and the purple bow for her shepherds staff. Jody did a terrific job on making the staff, it came out perfect. As for Jody's costume, he bought most of the pieces. Since Mija was going as Alice we thought it would perfect if Jody went as the mad hatter. All I had to make was make a giant bow tie. I found the perfect fabric for a Mad Jody. And he bought the rest of his costume at Taxi Taxi and substituted a magician's hat for his mad hatter hat.
I think every ones costume came out just amazing. And I had a lot fun learning new techniques. I hope I can top it next year. XD I hope everyone had  a safe and Happy Halloween. I know I did.
This post was written by:

KIM VERA - (view all posts by Kim)
Kim works as a museum Copywriter and helps out with events from time to time. When she isn't working or blogging, she is probably off taking a nap. Feel free to email her at kim@mind-speaks.com