Double Pineapple Upside Down Cake :9
Ingredients you will need:
1 pkg  of Duncan Hines Moist Deluxe Pineapple Supreme Cake Mix
1/2 cup of butter (1 stick)
1 cup of brown sugar (I prefer using light brown sugar but you can use which ever you want)
1 (20 oz) can of Pineapple slices
Maraschino cherries

Whipped Cream (optional)
First preheat oven to 350 F .
Then melt the butter in a bowl and dump it in a 13×9 inch pan. Sprinkle with sugar (Note: try to cover the edges as much as you can so that the corners of your cake wont be messy like mine was.) Then arrange pineapple slices and maraschino cherries on sugar mixture.
Prepare cake mix as directed on package. (Do not substitute pineapple juice for water.) Pour batter evenly over fruit.
Bake 50 minutes or until toothpick in center comes out clean. Let it cool. Then flip on a large serving plate. Serve warm with whipped cream. and enjoy :9
The final product looks like this.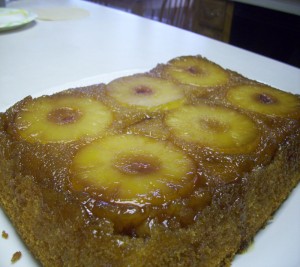 yummy right? lol I hope you like this recipe and I'll see y'all next time
This post was written by:

KAT VERA - (view all posts by Kat)
Kat is a lead pastry chef. When she isn't in the kitchen she's traveling space and time with Doctor Who and solving mysteries with Sherlock. Email her at kat@mind-speaks.com