We are in love with the Monster Hunter franchise by Capcom. Ever since the series came to Nintendo 3DS we've been playing non-stop with a group of friends. Our friends love themed parties as much as we do, so to celebrate the newest Monster Hunter game, we decided to make a small impromptu dinner!
Our amazing friend Paul made pork loin wrapped in bacon, while the hubby and I were in charge of the drinks! If you're familiar with the game, there are a few potions that you can make in the game. Green potion is for mega health, yellow is mega dash juice for stamina, red is mega demondrug for increase attack and blue is mega nutrients to increase your health gauge!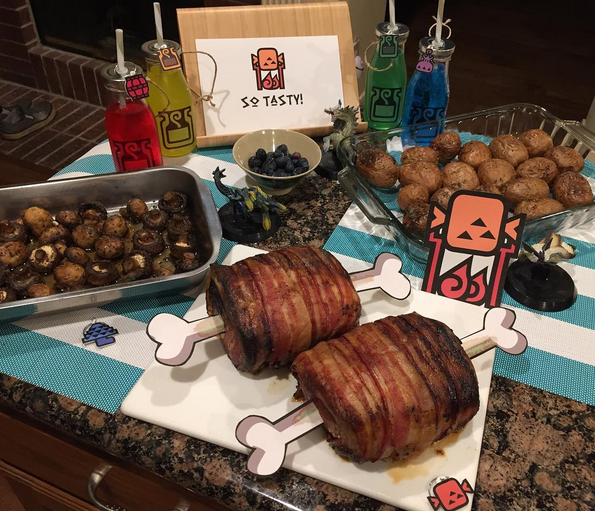 The drinks were super easy to make – different Fanta drinks poured into milk bottles from the Target dollar spot. I printed out the drink icon symbols onto clear labels and adhered them to the bottles. Remember the Valentine bottles I made for my dude? You can use the same method and Mod Podge over the labels! I also made some matching keychains for each of our friends. I gave some away to a Monster Hunter event at Houston Gaymers' Handhelds!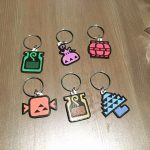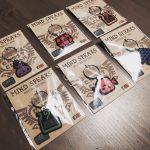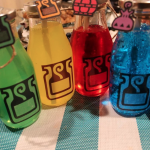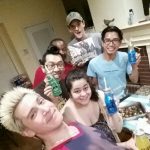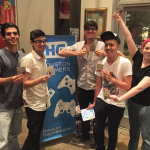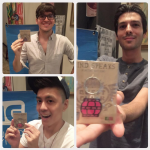 This post was written by:

MIJA VERA - (view all posts by Mija)
Mija has been a designer for the last 15 years. She is a paper obsessed fiend and loves working on new projects while listening to her kids and Maine Coon cat chatter around the house. You can email her at mija@mind-speaks.com