We here at Mind-Speaks were given the opportunity to create a project for Cut Out Keep, using Red Heart's Grande Metallic yarn. I decided to make some wall art, using my new favorite technique in knitting. Double knitting!!! This yarn is super fun, it has strands of metallic thread and it just makes the wall art pop. We were given 4 skeins in the colors, straw, mulberry, wisteria, and glacier. Such pretty pastel shades! Those are usually the type of colors I aim for when choosing yarn. Red  Heart yarn is my favorite to use, the texture is always great and it makes knitting easy and comfortable when sliding the yarn on and off the needles.
Supplies:
2 skeins in different colors
size 15 long length knitting needles
wooden dowels length varies depending on chart (optional)
*Keep in mind, these are the materials that I used, feel free to change the needle size.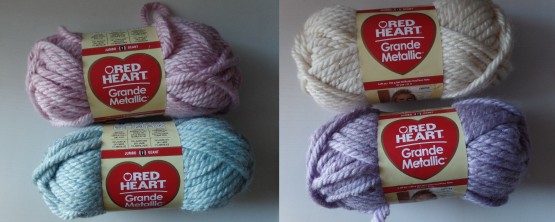 I decided to use a heart shape for this project, but you can use any pattern.  Just remember that if you use a pattern that isn't the same on both sides, your project will be backwards on one side. I used Craft Passion's heart chart for this, it came out nicely, however I do wish that I used a longer dowel, but that was the only size I had at the time.  It's a sturdy enough yarn to not require a wooden dowel in the first place, but I wanted to use one. I'll add the link to the tutorial once it is live on the site. But for now, here's  a finish picture of the project and some progress photos.
Thanks for stopping by and keep crafting
This post was written by:

KIM VERA - (view all posts by Kim)
Kim works as a museum Copywriter and helps out with events from time to time. When she isn't working or blogging, she is probably off taking a nap. Feel free to email her at kim@mind-speaks.com