Have a tea fanatic in your life? Then this is the craft idea for you.
Great gift for Valentine's, birthdays, or even anniversaries. This simple yet adorable gift will be sure to melt the heart of your loved one. Warm them up with a spot of tea. <3
Here are the materials you will need:
teabags or tea leaves
coffee filters
Scissors
needle
Thread
Craft Paper
Chalkboard labels (optional)
I just bought a box of different tea samples, and deconstructed the bags.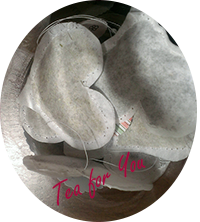 I then cut hearts out of the coffee filters and then sewed them up, filling each with different tea leaves. I love how the peppermint tea smelled. After sewing them closed, I left a long thread tail and then added a tag so that I could label each tea. In the sample box there were at least three of each type of tea, and there were I believe five different flavors.
Honey Chamomile, Sleepy Time, Lemon, Peppermint, Chamomile 
I also knitted a heart as an added decoration, along with a necklace that I had bought for my boyfriend to wrap around the jar. The artist is named Yamin, and you can find his work here. He is amazing. I also opted for a dollar chalkboard labels, obviously the chalk will rub off when the jar is handled. But it was just too cute to pass up, I've boarded the chalkboard train. XD  Hope you enjoyed my version of the heart teabags. Let me know if you tackle this project. Would love to see your take on it.
Until next time, thanks for reading and commenting.
This post was written by:

KIM VERA - (view all posts by Kim)
Kim works as a museum Copywriter and helps out with events from time to time. When she isn't working or blogging, she is probably off taking a nap. Feel free to email her at kim@mind-speaks.com