So Kim found this recipe and wanted me to try making it… Challenge accepted!! ( yes I've been watching too much How I met your mother)
What I will be making is an English dessert called Lemon Posset and to jazz it up were going to make homemade vanilla strawberry jam.
Ingredients:

2 1/2 cups Double cream (Heavy cream)
Sugar (2/3 cup Posset) (1 cup jam)
3 lemons
1 Vanilla pod
1 cup fresh strawberries
Pour the cream and 2/3 of sugar into a sauce pan and slowly boil. Simmer for 3 minutes and remove from heat
Zest and juice the lemons into the cream mixture and stir well. Pour the cream into ramekins or glasses and allow it to set for at least 4 hours in the fridge.
Halve the vanilla pod and chunk into the pan with the strawberries, a tiny splash of water and the remaining sugar (1 cup) heat to dissolve the sugar and stir the strawberries  a little, then boil for 15 minutes  before transferring to a clean jar allowing to cool in the fridge. Top the set lemon posset with vanilla strawberry jam.
Serve and enjoy
Serves 6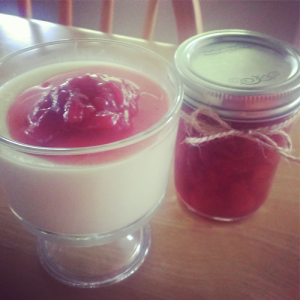 I really enjoyed this recipe its very nice and refreshing  especially  during the summer!! If y'all try this recipe please show pics!! Enjoy!  ~Kat~
This post was written by:

KAT VERA - (view all posts by Kat)
Kat is a lead pastry chef. When she isn't in the kitchen she's traveling space and time with Doctor Who and solving mysteries with Sherlock. Email her at kat@mind-speaks.com